When I was in Nairobi I was in a fabric store on Biashara Street buying burlap for the rug hookers. As I was leaving I noticed bolts of heavy waxed canvas by the door. I couldn't resist buying some because I loved the weight and the colours–moss, cognac and black. This is the first bag in cognac, a versatile bag with shoulder strap and lots of pockets.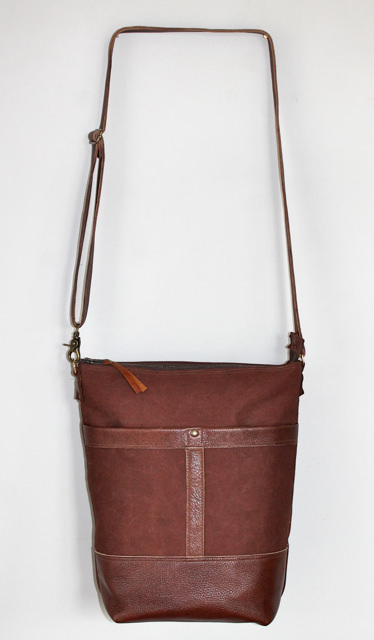 A great bag for every day, it will also withstand the rigours of travel. It has two deep pockets on the front and a zipper pocket for phone or keys on the back. Inside it is lined in striped cotton with  a domed coated canvas pocket for ipad and a zip/slip pocket for valuables. The bag is trimmed in durable leather, has antique brass zippers, rivets and clips and an adjustable leather cross body strap.
Width: 13″, height 14″, depth 5″
Look for this bag in the online store early this week.