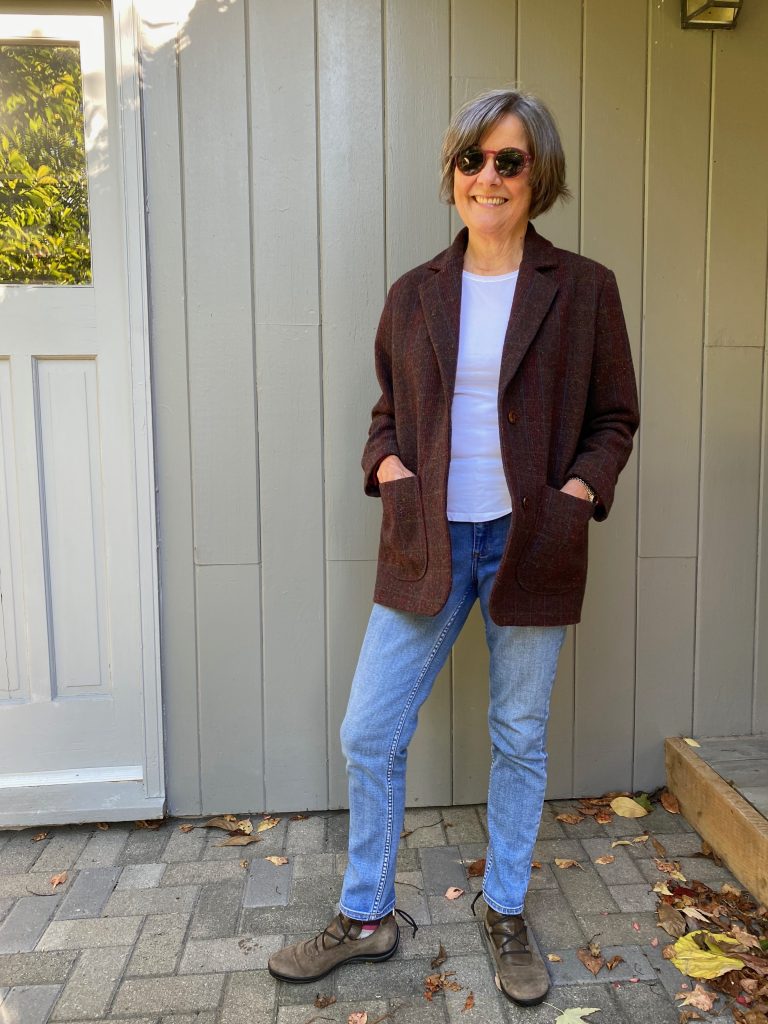 This is my second blazer of 2021. I have already written about my Jasika Blazer back a couple of posts. Making that blazer was a real lesson in tailoring and I relied on the outstanding Closet Core Patters course. In fact, I could not have made the Jasika without the course. I learned how to match plaids across sleeves, insert shoulder pads and sleeve heads, baste, interface and properly press curves, rolls and seams just to mention a few skills–the course has changed my sewing practice in many, many ways. The Closet Core ebook on fitting the blazer was also incredibly helpful.
The Heather Blazer is a simpler make overall, missing many of the tailoring details of the Jasika. But it has the oversized fit and shape I was looking for and I am very pleased with the resulting blazer. I revisited parts of the course during the making of my Heather and used the skills I learned to improve the fit and some of the details.
First off I made a muslin. I am now a confirmed muslin maker for any major project. I learned that I needed to cut a size small on the top and an extra-small at the hips. (The fit is generous.) I shortened the blazer by 2″ and inserted shoulder pads to improve the fit. I made the pockets from the Haremere Jacket in the Merchant and Mills sewing book. These are beautiful lined pockets with rounded bottoms. And keeping with that shape, I also rounded the front of the jacket at the hem.
I lined the blazer in maroon Bemburg and I enjoyed the clean process of bagging the lining outlined in the Heather instructions. I also used a contrasting wool for the under collar–a touch of fun.
It's autumn here in Ontario and I'm grateful things are at the stage that we can meet in small groups–and you can be sure I'll be wearing my blazer.