One of my favourite methods to dye is Wanda Kerr's wandering method. Wanda is a master at understanding dyes and making beautiful combinations. The subtle changes of these light wanderings will work well for the small squares I plan to use in the sky on the next rug. I want to make more of these in slightly darker values to give the sky some depth.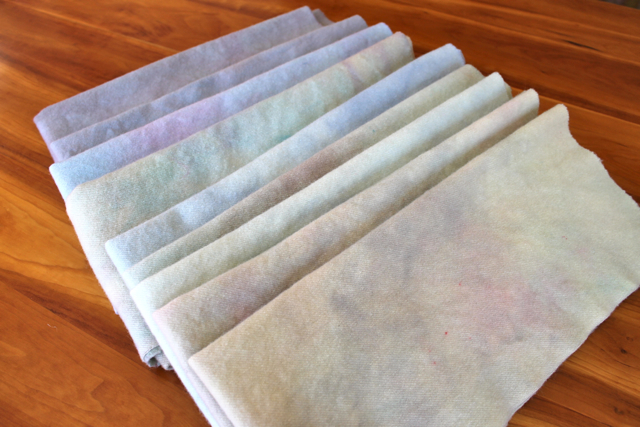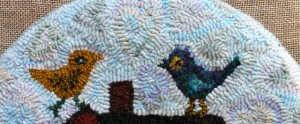 Because it is a gift, this is all I can show you of the third chair seat–the troublesome one. We have finally come to  a truce–but only because I made several concessions demanded by the piece. As I was thinking about all of this, I rediscovered Mary Ann Wise's article in  Rug Hooking Magazine, Jan/Feb 2010. (What a resource these back issues are!) This article is well worth checking out–there are tips to help you analyze your rug when you know things aren't right. Tip 1 warns that you have to avoid getting too attached to images "that make the composition trite or sentimental", or as she says, you must "kill the darlings". I had wanted to have hearts in the sky and I thought they would work as the circles did in the second piece here. Instead they seemed too cute and very distracting, actually tacky! They are still there now if you squint, but in the same value they don't irritate. Big lesson learned before the big rug.
We decided on the size of the new rug last night and the border. I now need to confirm the style of the main motif. The third sample veered too close to a real landscape for my liking, so I am hoping to stay more primitive and symbolic–but it's quite a journey, as you know, with discoveries all along the way. Off now to cut and serge the linen backing–that I know is straightforward!