It's a milestone of sorts–joining the two ends of my rug. It is 5′ x 7′ and the end is in sight. As I look at the whole thing now, I see where I have to make some changes/tweaks but they will come at the end. I hadn't worked out in the beginning how to morph from one colour to the next. I'm sprinkling some turquoise, my favourite colour, into the middle now. It seems strange, after working so long on this piece  how much joy I still get from forming each circle, from choosing the strands which make each one unique. I've spent much of this snowy week with the rug and good radio. A great winter combination.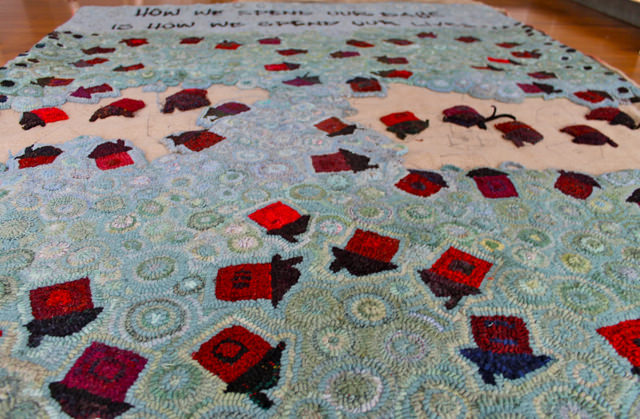 The Globe and Mail had another article this week on the benefits of knitting (substitute rug hooking, quilting, crocheting  most handcrafted fibre arts). Stress reduction has been linked to such activities before. This article goes farther to suggest that such fibre handcrafts not only reduce stress and help avoid depression but  "may help to stave off a decline in brain function with age". Hurray for that. I'm all for staving off my brain decline. But mostly I'm about the love of strips of hand-dyed wool pulling through my fingers and sitting next to one another in lovely colours.  And I love the feel of the finished product under foot and the look of it across a room. If the joy of creating one of these hand-hooked pieces also helps me keep a grip on things a little long…all the better.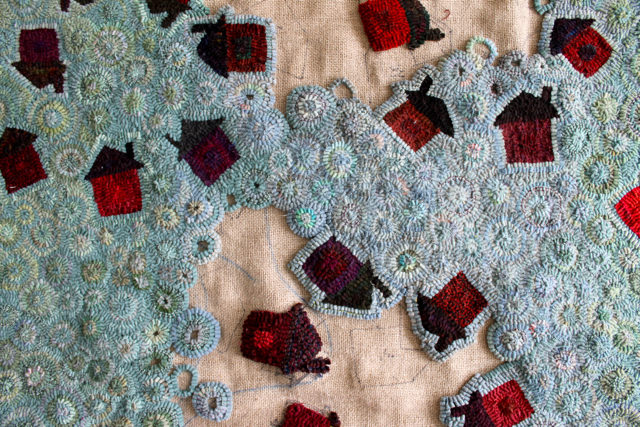 If you would like to see photographs of this rug in progress, just type Annie in the search box on the top right of the page.