I promised that I would post a picture of my rug Annie as she now stands. And, as you can see…I am closing in on the middle. Those of you who are regular readers of this blog know that for the last four years I have gone to Kenya at this time to teach both school and rug hooking. Now the month of February is open on my calendar. I'm looking forward to filling the February days hooking on Annie. I was looking back at older blog posts of the rug…yes I've been at it a while…and I came across this encouraging quotation from another Annie…Annie Leibovitz:
"Talent is something anyone can have. It can go away. It needs to be nurtured, taken care of. The best thing about getting older is that you kind of know what you are doing — if you stick with something. It doesn't get easier. But you get stronger."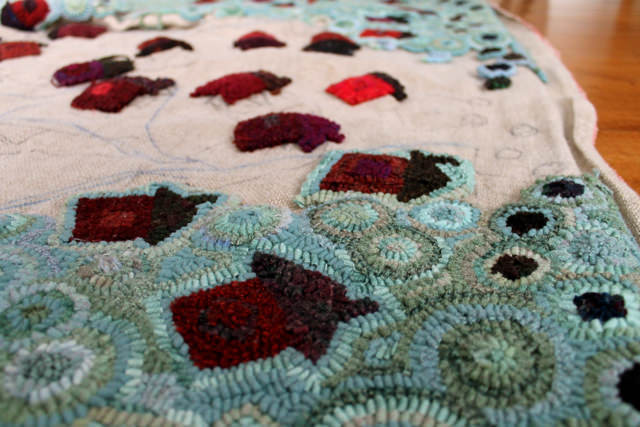 Here is where I was when I last posted in the summer and the two photos here show today. There is still a way to go, but in the spirit of Annie Liebovitz, I'm sticking with it. I'm not taking this rug out to hooking gatherings anymore–much too unwieldy. But it's still a great joy to have her on the stand and to pull the loops and join the circles. Kind of like living. Sticking with it and getting stronger.