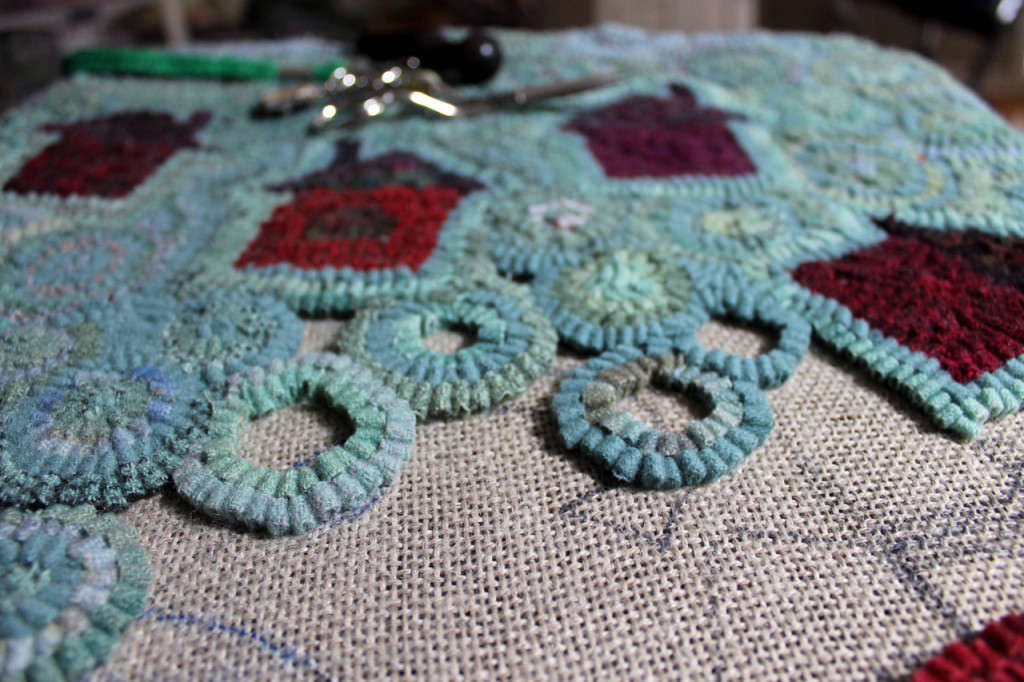 This is my fifth time to wish you blog readers a happy start to a new year. All the very best for 2016. I so appreciate that you visit the blog and sometimes leave comments. I know there are zillions of blogs out there and I value every visitor who stops by this one. I'm planning on making some improvements this month to make it easier to see what is available and what you can order. But more on that later.
Meanwhile, I've been spending time over the holidays hooking on my Annie rug which is about time and how we spend it. I'm finally making headway. The background moves from blue at each end into green and then back to blue in the centre. I am finishing up the green sections. I simply love combining various shades and textures and hooking them in circles. It makes a game, hooking the circles and then filling in the spaces left. Addictive when you get going. And listening to good radio which is so available as NPR compiles its best broadcasts. I've also been watching a stunning PBS documentary called The Royal Paintbox which here in Canada we can get through TVO.
Back to the blog for a minute. A blog provides an interesting vantage point from which to see your life as it passes. Over the past 4+ years, the blog has chronicled the progress on three big rugs and several smaller hooking projects as well as countless bags and totes and lots of sketches. I hope to have a second look at some of these which I have posted in the past year–bags I thought were good, sketches which evoke great memories and, in a week or so, a photo of the progress I'm making on Annie.
But in the meantime, enjoy the last hours of 2015, take some time to reflect on the good things and then plunge ahead into 2016. I'll be here.