For the third year in a row, the sun shone on the Campbellford hook-in. This hook-in in this charming town on the Trent Canal is one of my favourites. It is a beautiful venue, the host group is generous with food and prizes, and lots of rug hookers with inspiring rugs are in attendance. I didn't get a chance to photograph all of the rugs I admired, but here are a few.
First are Jane Holland's frog and Marg Dooher's geometric. Both pieces use colour and texture to great advantage. The turquoise in Marg's piece is dazzling–it demonstrates how a familiar pattern can be made extraordinary by thoughtful use of colour.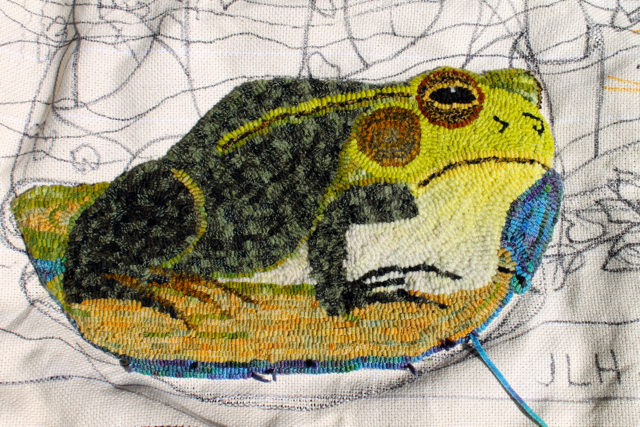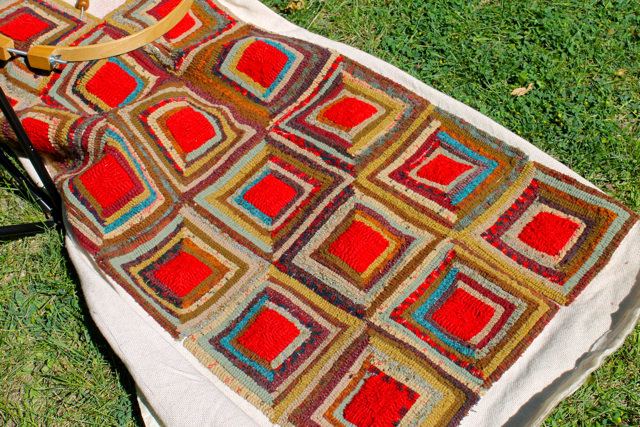 A piece that caught everyone's eye was this calendar rug by Rosemary Malone. The pattern comes from Christine Little in Mahone Bay. Each month Christine sends a pattern to participating rug hookers who hook it and add it to their calendar. Rosemary has won the contest for best month twice and is waiting to hear about June. Her personalized details like the railway tracks in the June piece and the red high heels in March are what makes it so delightful.
Thank you again Cambellford Rug Hookers for an inspiring and enjoyable day.