Yesterday the Moira Mat Makers (the Belleville rug hooking group) gathered for our monthly meeting at Loyalist College.  Our main project for the day was organizing for our show at the Corby Library in September.  As we looked at all the rugs, we decided that it will be an outstanding display of talent and ingenuity.  Below are only a very few of the rugs to be displayed.  The opening night is September 1st in the library gallery on Pinnacle Street in Belleville.  I hope that you will mark your calendars.
Glenn's Scooter: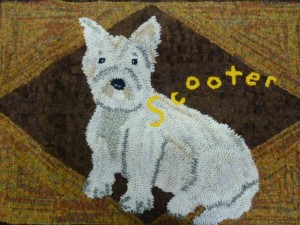 Mary Anne's Echinacea: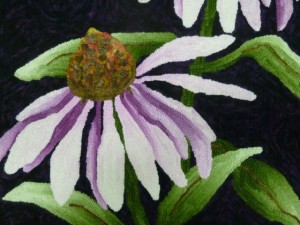 Joan's streetscape–this is just one third of the rug!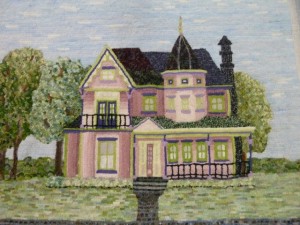 And Luba's story of the creation of the world.  Again, this is part of an amazing triptych.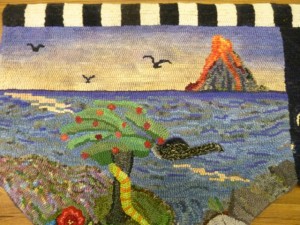 I should have taken more photos as the room was filled with rugs, but I got lodged behind my Fireworks rug, coming closer to my goal of finishing the centre and drawing the border before I go to Green Mountain rug school, one week today. YIKES!