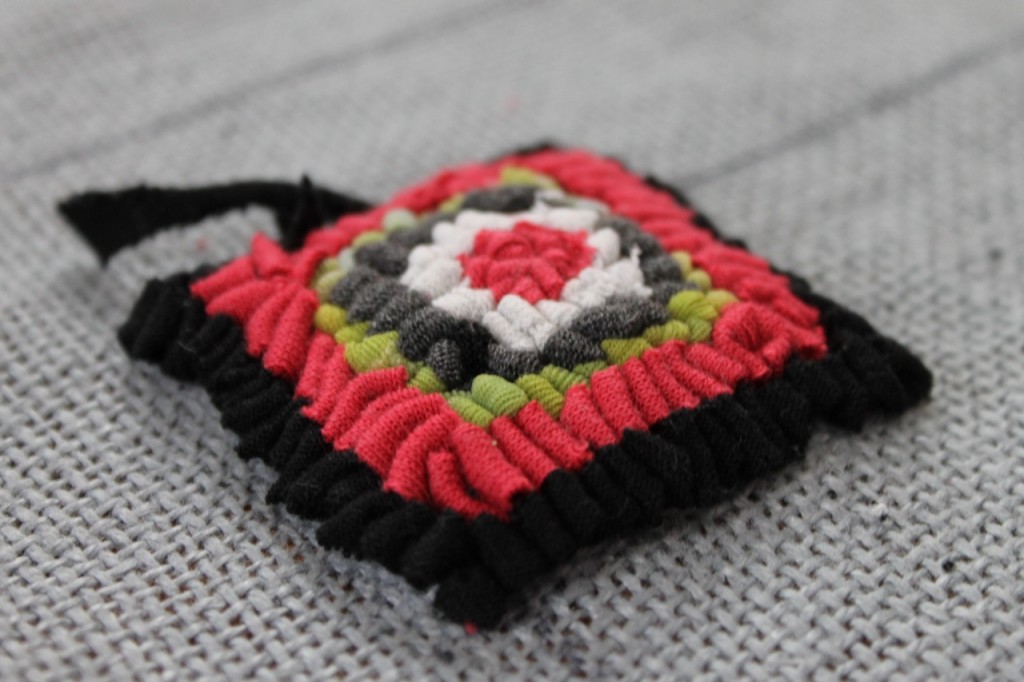 I have begun to hook with strips of t-shirt material and it is taking some getting used to.  First of all the cutting of the strips is a challenge. I am currently using a rotary cutter, but that takes so much time! Then there is deciding on the width of the strip–wider seems better. And I am discovering that cotton does not behave in the accommodating way wool does. In addition, finding good colours is a challenge–I have slipped in some dyed lime green nylons in this square, just for some pizzazz.
With all these negatives, why am I doing this, you ask? Well it is a challenge. And it is recycling. But the main reason is I am going to Kenya in January and hoping to teach the women in the village there how to hook rugs. I was looking for material which would be locally available and thought immediately of this source of cotton. So I am experimenting with all facets of this new hooking and will keep you posted.
And here is the next leather bag–still very much in process. This will be a big travel tote with handles and a cross-body strap. I order to make something this size, I am using two leather sources, a pebbly bomber jacket and a pair of leather pants. The colours seem to work well together, so I am just trying to work with the many seams in the jacket. Will let you know how this goes as well.