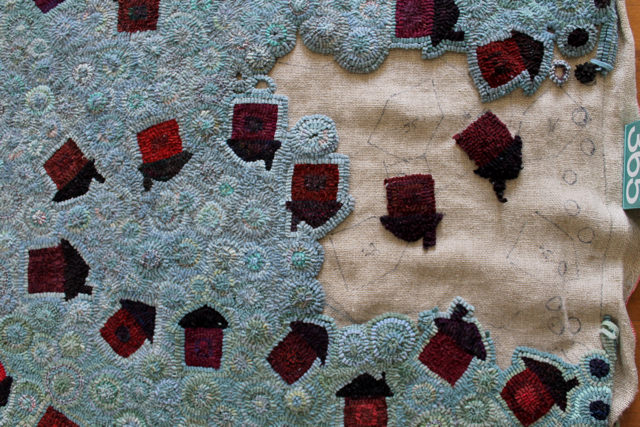 This section and a small spot in the top right corner for the bird signature are all I have left to hook–about two days' worth. However…before I have even finished, I've become obsessed with correcting some of the very early loops. Now that I have a view of the whole I can see where some of the early sections are jarring. I began the rug with the quotation at either end, hooking in circles with an off-the-bolt mid-blue stripe and adding strips of similar colour and value. From there I had the idea of moving into green and then back to blue in the centre as I hooked around the 65 houses. The ends of the rug with the quotation are quieter, but I still want it all  to work as a whole.
The rug taught me as I went along how to make a smooth transition from colour to colour while keeping an interesting pattern of circles. I learned that smaller circles are better, as well as staying within a close value range. As I look at the whole nearly-completed rug, I realize that the first transition in colour below the quotations is to0 defined. I can see the divide between colours like a line across the rug. So I've been ripping out and re-hooking, trying to make a seamless transition from colour to colour.
This rug has been three years in the making, not non-stop hooking by any means, but always in my mind. So it is fine that it is taking a little longer. I am learning as I go. After all, the rug is about how we live our lives.  And imagine how long it will take to whip! I am sure to be devoting many evening hours on the cottage porch this summer to that little task. For an overview of the progress of this 5'x7′ somewhat biographical rug, just type Annie in the search box.