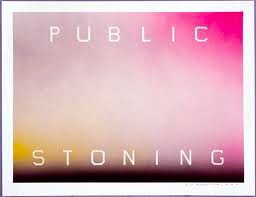 It is a curious but recurring event in my life that just the right book makes its way into my hand at just the right time.  I happened upon this quotation from Ed Ruscha this past weekend.  (Above is one of his images.)
I like the idea of a word becoming a picture, almost leaving its body, then coming back and becoming a word again.
 I had not even heard of Ruscha before (and he is, I have subsequently learned, one of Time's top 100 most influential people of 2013) but his approach to text immediately resonated with me.  I have been hooking the Annie Dillard quotation and musing the way one does when the room is quiet and the fabric slips through one's fingers magically looping against itself on the canvas. The quotation seemed to capture that dance from word to image to implication to association to memory to longing and back again.