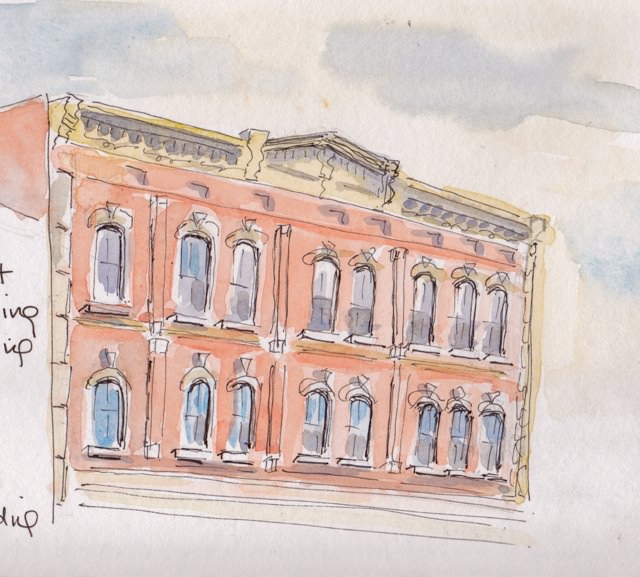 Like many other people this week, in the wake of the announcement of the Nobel Prize for Literature, I have been reading Alice Munro stories. First I revisited some of the stories I had in the house and found them even better than I remembered. And then I purchased her new collection, Dear Life. I am midway through this volume and find these new stories as heart-stopping as ever.
 Yesterday I was driving home from Kingston when the CBC replayed a 1996 conversation between Peter Gzowski, legendary CBC host, and Alice Munro. I highly recommend you listen to it.  I was riveted–so when I came to Napanee where I had an errand to run, I stayed in the car, pulled out my sketchbook and paints and began sketching this building on the main street while I listened. I cannot think of a better way to spend 40 minutes–listening to two Canadian icons clearly enjoying each other's conversation and sketching a lovely old piece of Eastern Ontario architecture.
The New Yorker came today and I see that they too have a reprise of an earlier Munro piece–her story published there first in 1999, The Bear Came Over the Mountain, the story that was the basis for Sarah Polley's film Away From Her. That will be tonight's reading. In typical New Yorker fashion, there was no fanfare, no mention of the Nobel, but the photo by Bryan Adams which accompanies the story is of Munro herself. And after all, the New Yorker has been championing Munro for a long long time.