Over a year ago I made myself a promise that, as much as possible, I would buy hand made or second-hand, that I would avoid the imports which have inundated our lives. And I have been pretty true to the promise, except for my shoes which come from Spain–but I've allowed myself this loop-hole, rationalizing based on my comfort and support of a sagging economy! Otherwise my record is pretty good. It does help to have an amazing store in Picton, City Revival, where the 'gently used' clothing is beautiful and abundant.
However, it is the handmade that I want to write about. I am in such awe of the beautiful handmade items available and even more in awe of their creators. These artisans work all year to create and then stand for days and days at shows smiling and explaining as we handle their wares.  It is not an easy life.  Below are some of the beautiful things I bought for gift giving during my recent visit to Montreal.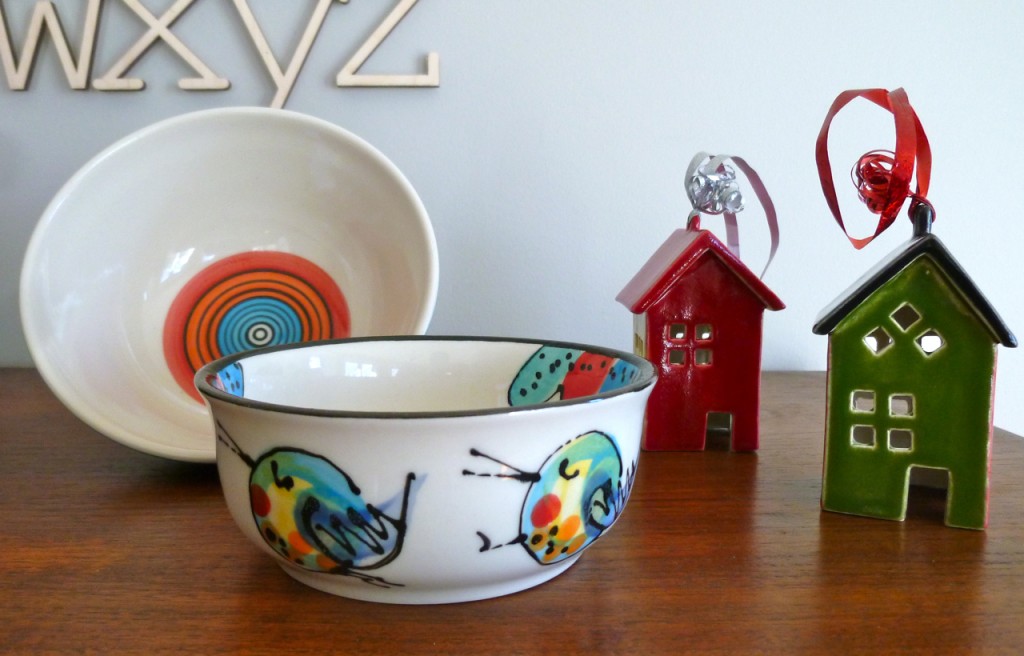 The bowl on the left is made by Frédérique Bonmatin, the front bowl with the two marching birds and the two delightful houses are from Poterie Manu Reva on St-Laurent, a consignment store for potters.
And finally, a link to some other ceramics and so much more, a beautiful series of photos courtesy of Miss Moss. It's worth the visit!