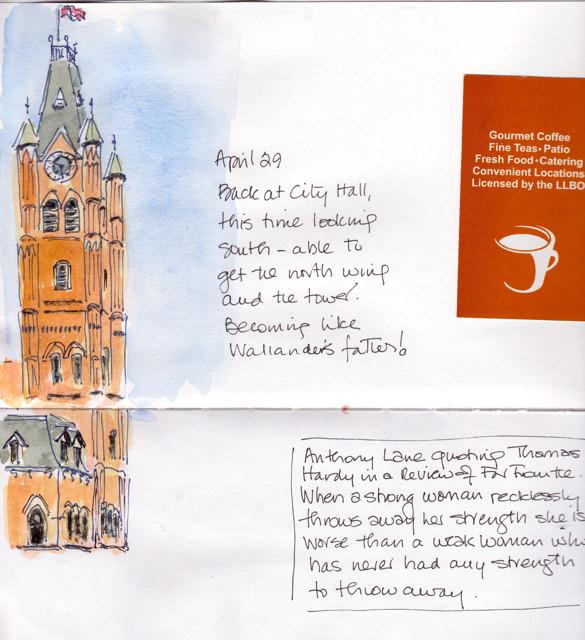 I have been trying to sketch everyday, finding the time where I can. Sometimes these are pretty fast like the one above painted in my car while I drank a take-out coffee. On Thursday I was at the dentist and had 40 minutes between procedures. So I parked strategically and sketched the house across the way.
Then yesterday I was in Toronto for the day, with the full morning at the Distillery District. There were lots of intriguing old buildings and I sat both inside and out to sketch them. Today I sketched yesterday's purchases. I've mentioned before that I purchase clothes either second hand or handmade. There were two great stores in the DD with the designers on hand. Susan Harris had designed the linen dress I bought–and when I said that I would have loved pockets, she gave me the extra material and drew the pocket pattern for me. Now where can you find that kind of interested support at a fast-fashion or even a high-end clothing outlet? It's like buying a book from a small bookstore where the owner has actually read the book you are looking for.
In today's Globe and Mail there is an article on slow goods, "high quality, handmade, everyday goods, sufficiently well built…traditional materials. Time-honoured techniques are prized, sweatshops shunned." This certainly describes the work of the two makers I purchased from yesterday…and come to think of it…the work done right here at Birdbrain designs. On the cutting table here, another cognac waxed canvas and leather bag. Check back soon to see…or contact me at the blog.