In the last post, I featured some of the best bags I made in 2015. Today I'm featuring some Kenyan sketches. This is Cliff's place, a series of buildings like so many all over Africa, crumbling cement block and corrugated tin. We walked every day to Cliff's because he had milk and fresh eggs and phone cards. As well, the local women had a small market there where we could buy tomatoes, chard, onions and, if we were lucky, fresh samosas made over a small fire. I loved the interaction with the local people and using the local ingredients in our cooking.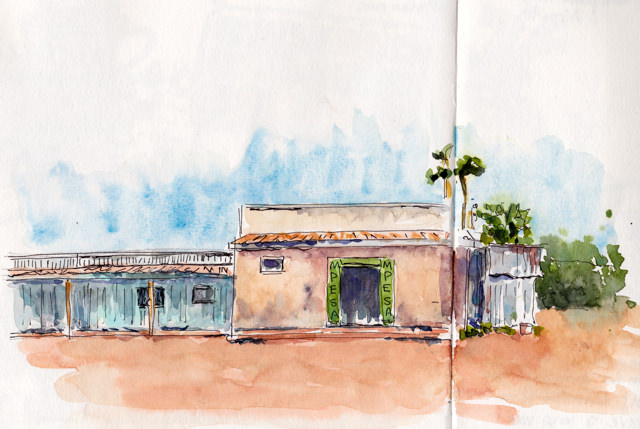 This building in Nairobi is a reminder of the colonial past. I've just finished reading Circling the Sun which is set in Kenya in this colonial era. Although I found the book mediocre and its story of the self-centred ruling class annoying, I connected with the descriptions of the places I know well, both in Nairobi and in the countryside. The Norfolk Hotel, so much a part of the novel, is still 100 years later, catering to the expat and tourist monied classes with its beautiful architecture and gardens with little regard for the local culture or population. Last year I noticed they had spoiled the lovely verandahs with bullet-proof plastic…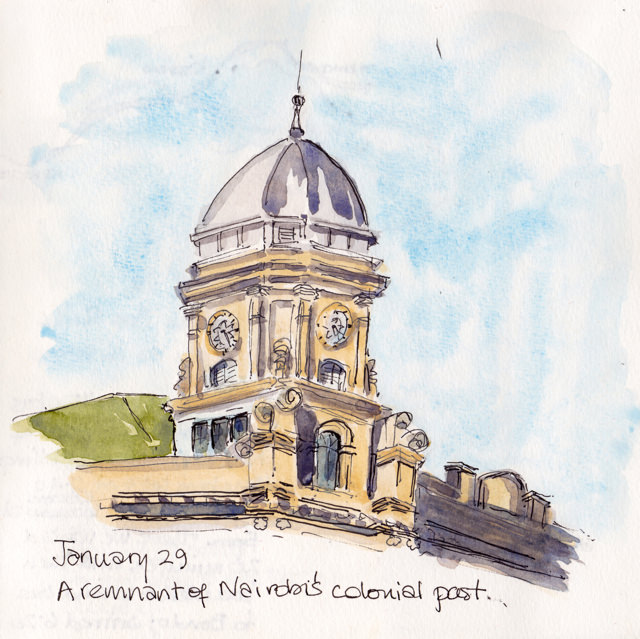 And here are a couple of quick sketches of local people and village life.  It was hard to sketch during the day because of the heat, so a few lines done at the time and then colour added later.