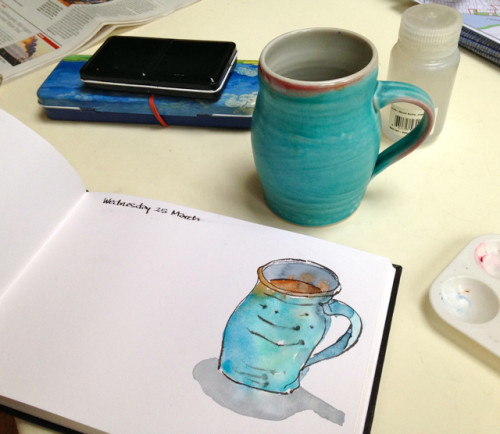 Yesterday we travelled to Galt, a great old Ontario town, to do some sketching, but it ended up being foggy and rainy. So…we sat in a lovely café with views of some of the city's historical buildings.  Before we left in the morning I sketched a new mug in my favourite colour. This is the second turquoise mug I have from Dundas potter, Scott Barnim. They make morning coffee a feast for the eye.
Even in the rain, Galt's historic buildings were beautiful. Made mostly of limestone, they seem to be everywhere, imposing public buildings and old mills. Some have been converted into condos or awaiting a new life–but some are still functioning as designed 150 years ago. We hope to go back soon on a better day.
At night we attended a sketching workshop–but more on that in the next post.