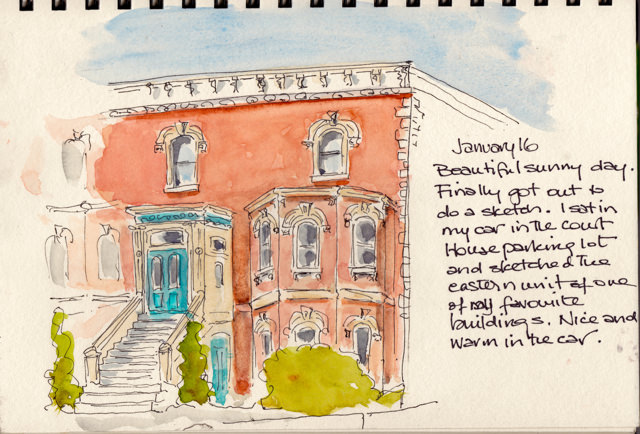 It was a beautiful Ontario winter day today and I had a half hour to spare. So I parked in the Court House parking lot and set up my sketching kit in the front seat of the car. Although it was a beautiful sunny day, it was still -7 C, too cold to sketch outside.
This is the east end of one of the most delightful buildings in Belleville, the Bellevue Terrace, a series of six three-storey townhouses, built in 1876. When I first moved to Belleville, this was the place I wanted to live. Sadly I have never even been inside one of the units, but have always admired the 'Eclectic High Victorian' design, especially the concrete window hoods and sills. And in a city that does not value its history, we are so lucky to have this terrace, protected by the Ontario Heritage Act.
Earlier in the week, I started a quick sketch of the old Napanee Post Office from the parking lot of Mac's Milk. I want to take the time to do justice to the whole of this wonderful sandstone building which was designed by Thomas Fuller, Chief Dominion Architect from 1881 to 1896, whose firm designed the centre block of the Parliament Buildings in Ottawa. The post office was built in 1887 and its over-budget final figure of $52000 was the subject of a federal investigation. But we have this glorious piece of architecture today, whose exterior as well as some of the interior features are also protected by the Ontario Heritage Trust.