The first birdbrain post was on March 28 2011. I had begun making hooked bags and screen-printed canvas pouches and wanted a way to share what I was doing. In the three plus years since then, I have written 486 posts. This link takes you to those early days and my hooked bags and the very first leather bags–bags which evolved naturally when I was searching for a lighter option to the hooked bag. These two leather bags, the Grape and Espresso photographed in this post, are still in use and still look great. (So are the three hooked bags!) It makes me happy to see people using the things I have made and even happier to see the products standing up to the wear and tear of living. Over the three years I have had a few pieces back for repair–and I encourage this. I want the things I make to have a long life.
But today, I've been thinking about the blog and where we have been together. Travel to France, Italy, Germany, and of course Kenya–rug hooking, leather bags, screen printing and sketching. My early description of the blog which is still on the top right said it was a place where I muse about my creative life. And I guess I am still musing. And still creating.
On that note I've been designing some new bags. A little while ago I found some super black waxed canvas which still had the Eddie Bauer tag on the bolt. And I still have some great moss green waxed canvas in my store room. I want to combine both of these durable, waterproof fabrics  with leather to make some shoulder bags and a totes. I like bags with exterior pockets and lots of options for storage inside. These bags will also have an ipad sleeve inside. I like to line them with canoe canvas because it is so durable. Here is the start of the designs. I'll post them again as they take shape. And by the way, if you have any ideas about a bag or case you would like, please send me your ideas and request.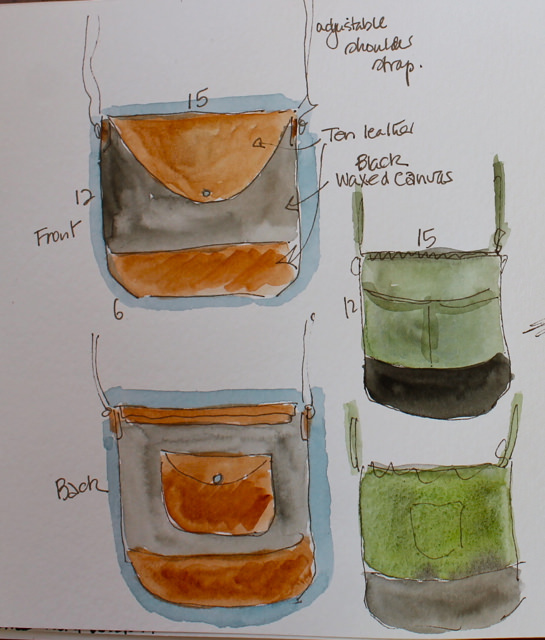 One final note about what's coming up. I got this wonderful pattern in the post last week from Donna Hrkman. I saw it when I was in Donna's class in Seattle in March. I do not usually hook patterns from other designers, but I fell in love with this one. Donna added a baby bird to the design, making it a perfect gift for some of my favourite Birds. I've already started laying out colours. It will be good to get back to hooking. I'm a bit stymied by my large rug at the moment, and I think this Partridges and Pears runner is just the thing to get me back at the hooking frame.