I am going to Kenya for a month to work with the local women on rug hooking. This is my fourth year in the village and my third year working with the women. I have a suitcase crammed with woollen worms and dyed pantihose and a few pieces of backing but hope to buy a bolt of backing in Nairobi as well as more clothing and jersey which can be cut in strips. If the project is going to be self-sustaining, it will be important to source the materials there.
I've been doing a little hooking in preparation. Some of the women became very proficient last year, and will be ready to go on to their own projects and designs. Others will be joining the group for the first time and will work through the practice pieces. Both both groups will produce small pieces which we will hope to sell.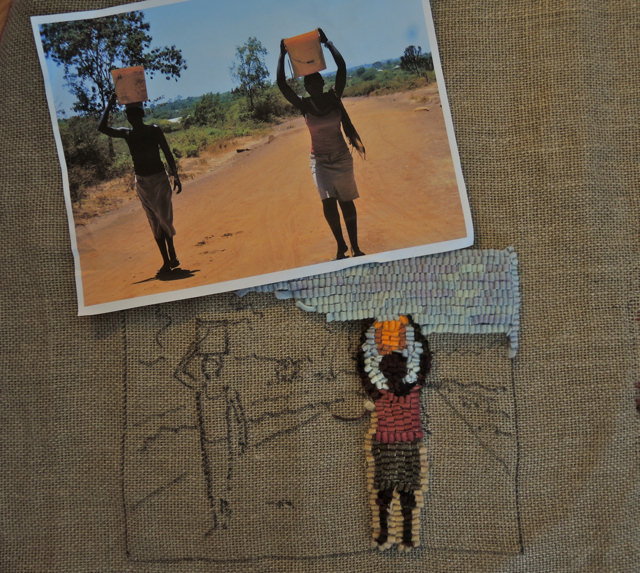 Kenya is also a wonderful place for sketching and I intend to do as much as I can. I am paring down my kit into something that I can carry with me at all times in a small backpack. Since I will be away for a month, I need to take enough to last–so I have stocked up on Staedtler permanent and non-permanent markers–I have grown to like these very much –as well as the trusty Micron 05's. I'll take a couple of my favourite Lamy pens as well.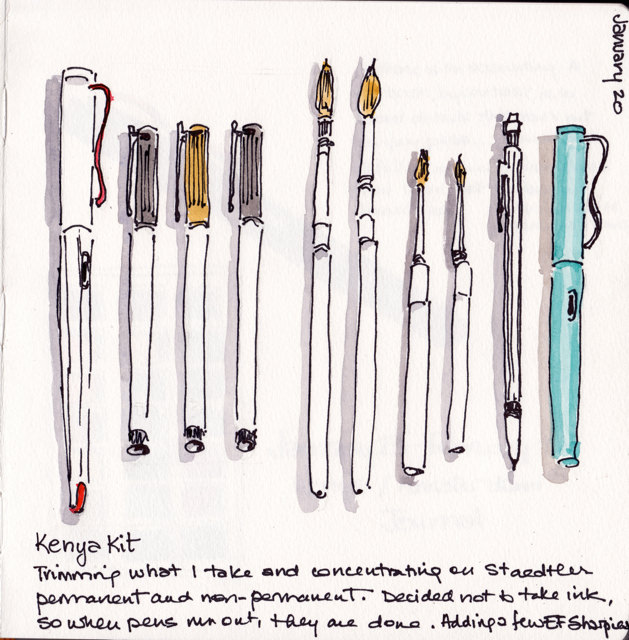 And a final cup and saucer sketch. We were at my favourite café and the server heard my cough and raspy voice. Knowing I was going on a plane this weekend, she brought over her special 'tea for colds'–lemon, cloves and honey. We were sitting in the window table, my favourite, and the tea was delicious and soothing so I celebrated the moment with a quick sketch. Yes I do love those yellow cups, but note for next time–include more of the surroundings in the sketch…btw the sketch below is done in my current sketchbook, Stillman and Birn Delta Series. Although I love the 7″x10′ size and the coil binding, I am not fond of the ivory colour. Seen compared to the while of the one above, my Kenya sketchbook, the hand.book 8.25×8.25, I realize how much I prefer the white paper.