1. Elizabeth Hay's luminous new novel, Alone in the Classroom.  I was hoping to read the book and then give it to a friend for her birthday, but I find I am underlining passages and reading excerpts aloud.  So I am about to order my second copy.  I also have Emma Ruby-Sachs' new book waiting.  I heard her interview on Q and was entranced.
2. Heidi Swanson's quinoa salad which you can find here.  I had to make several substitutions as I didn't have all the ingredients.  It was still wonderful and got raves from my family.
3. Moo stickers.  I've been meaning to post about these for a while.  They are great fun to make and I've been using stickers of my hooking and drawing for labels, envelope closures etc.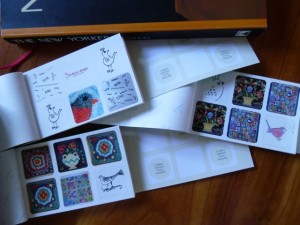 4. A wonderful party  to celebrate my son's upcoming wedding.  Family and old friends whom I haven't seen for ages were there. Many thanks to my sister and her partner for That's Amore!
text