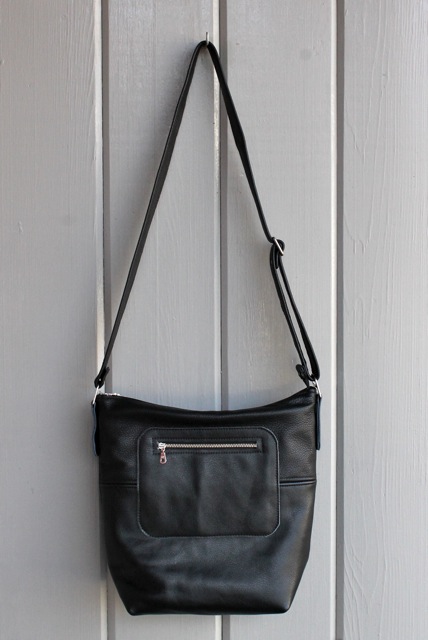 This is my first bag of 2014 and made of one of the nicest pieces of leather I have ever used. Actually there are a few pieces of leather in this bag, upholstery remnants and pieces of men's jackets–that's where the challenge comes in–but they are all of the same top quality.  It is a handsome durable bag which will work hard for many years.
It has two outside pockets, both secure. One has a zipper and the other a magnetic closure. Inside it is big on personality. Lined with the Amsterdam squares, it has a pair of fuchsia leather pockets which will hold your phone, passport or other valuables as well as an orange waxed canvas slip pocket large enough for an ipad.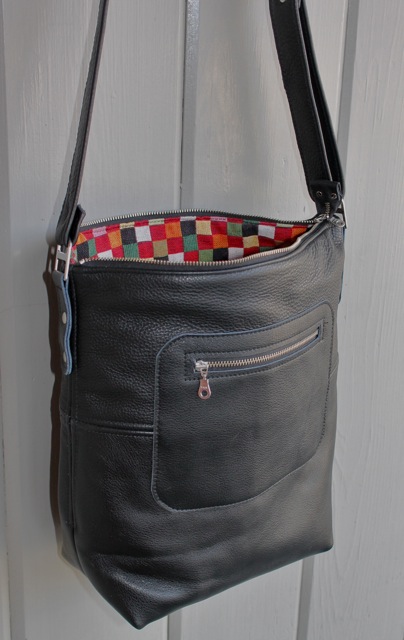 This bag would be great for travel. It can be worn cross-body or the strap can be shortened so you can tuck the bag under your arm. It is large enough to hold all your essentials, including tablet as I said, but a good size to carry easily.
Dimensions: W: 13″ H: 11,"D: 5″ Strap extends to 47″
Will be in the shop by the end of the week.