Can you believe it? There are 889 people in the closed Face Book group that is associated with my on-line sketching course! And well over 1300 have watched the first set of lessons. Yikes! Imagine. Our first set of lessons was in my inbox last Friday morning. It included talks about creativity and expression, video tours of two of Danny Gregory's sketchbooks and a video demo of him sketching his son's shoes. (And transcripts of all the information ready to be downloaded.) Danny is a warm and generous teacher who believes that creativity is a crucial life force which we should honour. I've long been a fan of his approach since I read his first book The Creative License. Check out this link and read his story. He will convince you too.
Anyway, the weekend was very busy with all my family home, something that doesn't happen often, and lots of tramping about in the sugar bush. But today I got down to sketching. Our assignment is to take our sketchbooks with us and document the week. Today it was pouring rain and cold, so these are indoor sketches. First my Ahnu boots which have been to Kenya and Amsterdam and back as well as braved this Ontario winter–but are now ready to be stored away until next year.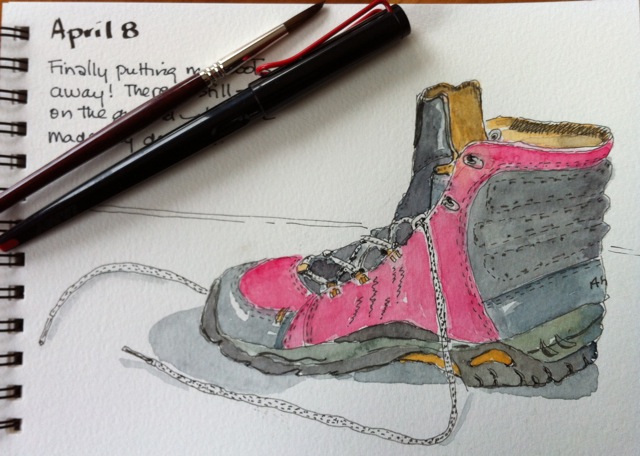 And then below, 15 Campbell Street. I sat in the library to do this. Our library has full-length windows and wing chairs positioned strategically at each one. I sketched from there last week, but today I found another window at the back and this building which I have walked by millions of times, but never really taken in. It is a 1909 classic, now empty and sad as is much of our downtown. This was a quick sketch–most of the time spent trying to get the angles right. We are to sketch ink first, no pencil, and this results in some wonky lines and do-overs as you will see. I have wanted to document the lovely old buildings in Belleville for some time–it is amazing what you learn about design and craft when you really look. And so I have made a start. I still need to work out just where the sketch will be on the page–so I don't lose the bottom of the building as I did here!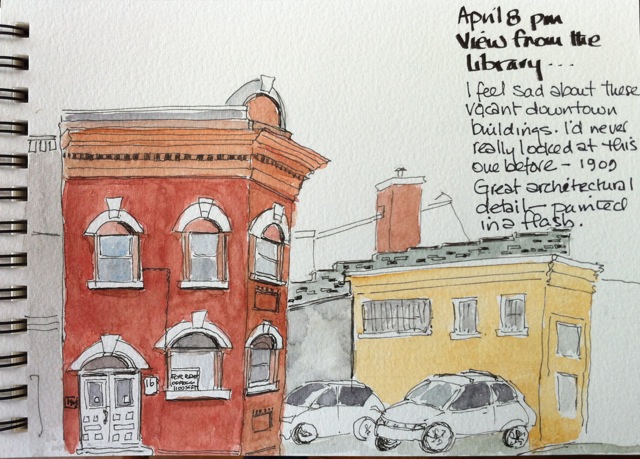 And for those of you who have been wondering, I have finally finished a leather bag, my first in four months. It has definitely been a long time coming–and should be posted here this week. It is made of great black upholstery leather and lined with the very last of the Amsterdam squares.