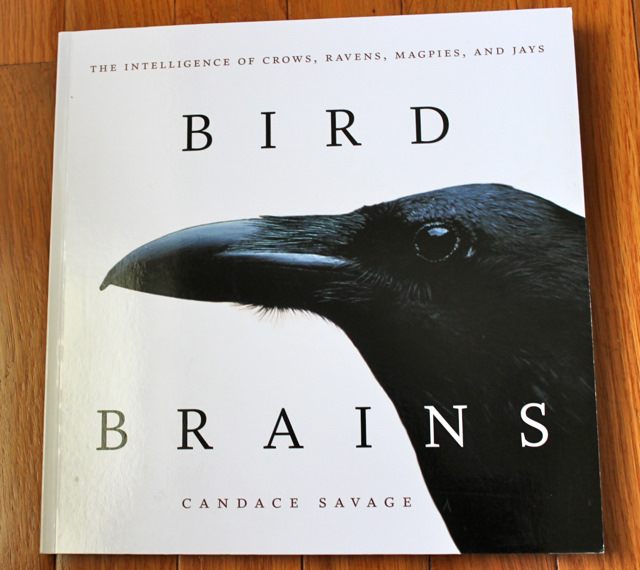 I'm thinking about a new rug now that Annie is almost finished. I fell in love with Wallace Steven's poetry in university and a recent article on him in the New Yorker rekindled my interest. (He was a complex man, of course, and apparently punched Ernest Hemingway in the jaw and for some time after that nursed a broken hand and puffy eye.) A 2009 journal of mine has his poem Thirteen Ways of Looking at a Blackbird pasted to one of the first pages with ideas for a rug. It has been in the back of my mind since then, or maybe before, to do a rug with blackbirds and somehow incorporate part of Steven's poem. To stir the design process I've been reading Bird Brains by Candace Savage. Savage explains that crows, ravens and magpies "are tops among birds for overall brain size. Their brain-to-body ratio equals that of dolphins and nearly matches our own. What's more their large brains are packed tight with exceptionally large numbers of brain cells." Her book is filled with delightful tales of Corvids (their Latin name) outsmarting humans and making "complex decisions…showing every sign of enjoying a rich awareness."  I am going to enjoy reading this book and hooking some crows. Given the size of Annie, I think I'll start with a few small pieces, before I tackle another rug.
Speaking of Annie..I have finished hooking all 5′ by 7′ of her. Serging around the edge in preparation for whipping proved to be difficult. I am not sure how much she weighs, but it is not insignificant and I had trouble holding that bulk up to the serger. At any rate, here are a couple of photos taken inside. Once the whipping is done, I'll hang her up and take a proper shot.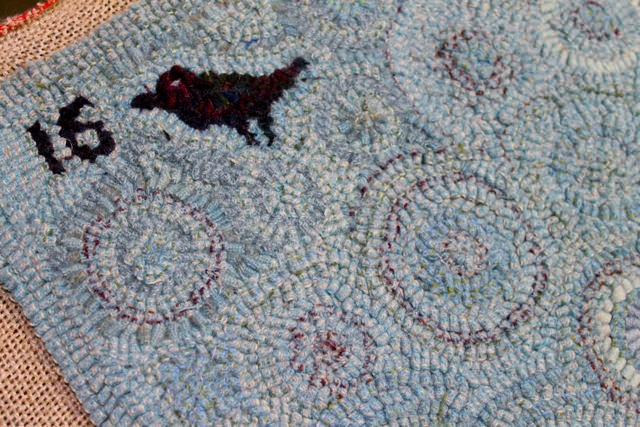 I stood on a chair and leaned as far out as I could to take this photo–unfortunately I could not stretch to get the whole thing.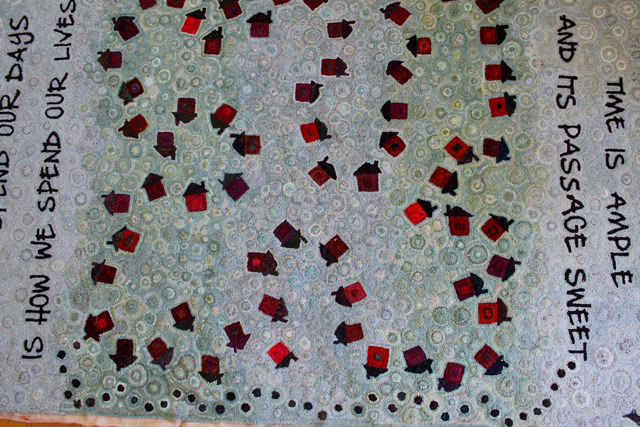 This photo is taken standing at one end, but it too has its distortion. But you get the idea!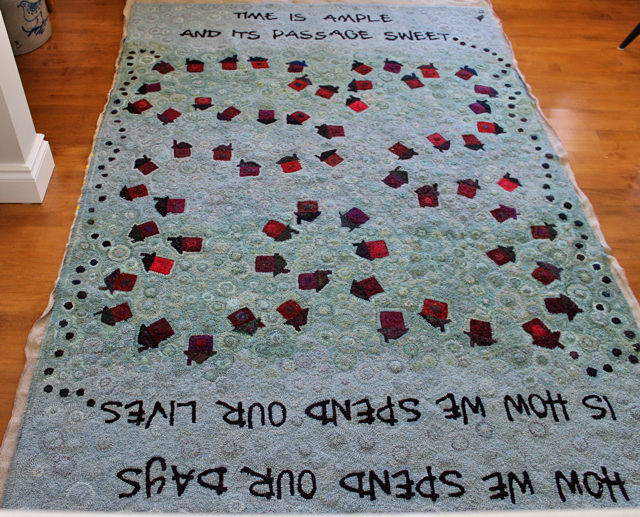 One last close-up of the signature.