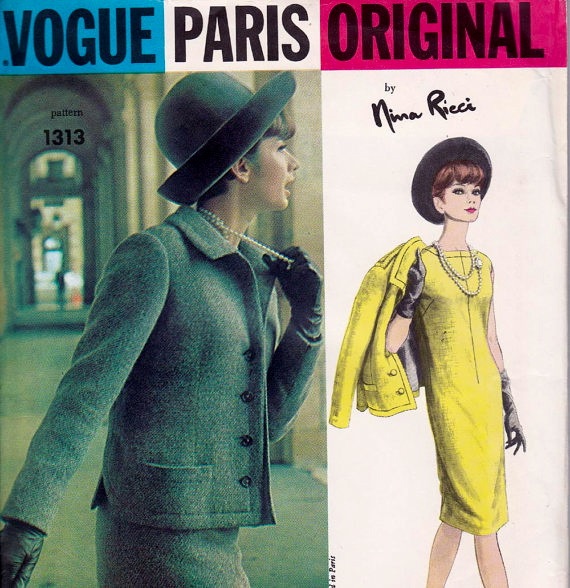 I am giving a talk next year to a group of fibre artists, so I have been thinking about the key events in my 'journey with fibre'. My mother made me my first Vogue Paris Original when I was 18. I had spent hours in Eaton's fabric department thumbing through the pattern books until I found my dream, Vogue 1313. These patterns were well beyond the standard Simplicity and McCall's–they cost about five times as much and were complicated–bound button holes and welted seams, inset pockets and several types of interfacing. Each pattern even contained its own Paris Original label! I was sure my life would be transformed when I put on this glorious suit and in many ways it was. But it took some coaxing to convince my mother that this was the suit for me. She had never made a Vogue Couturier pattern before and was not sure she had the skill. And it was even more of a selling job when I found the fabric–Munrospun–a beautiful wool woven in Edinburgh Scotland. At that time, Easton's carried a full line of wonderful woollen fabric. I remember the bolts laid out on table after table, Harris Tweed, fine Italian wool and so much more. The green Munrospun I chose, as close an approximation to the pattern fabric I could find, was $17 a yard, a fortune in 1966 when the average yearly wage was around $6000.
I loved that suit and felt beautiful in it. My mother said her hands were shaking as she first cut into the fabric. But she did a wonderful job. The suit looked just like the pattern picture. And this is the magic of the world of fibre and creating. She and I became so close over that wool and pattern; through the many fittings and the discussions, the pinnings and repinnings — and the courage and plain hard work on her part — we came up with something beautiful. It was made with love and to this day we both can remember all the steps with a visceral clarity. It's like talking about an old romance. I wore and wore that suit with pride and confidence and I am still filled with warmth and love for my mother who so valiantly played her role in my journey with fibre.
It took me months to find pictures of this pattern, but here it is in all its glory, now $65 on Etsy. A lifetime away from our great expenditure of $3.30 in Canada!