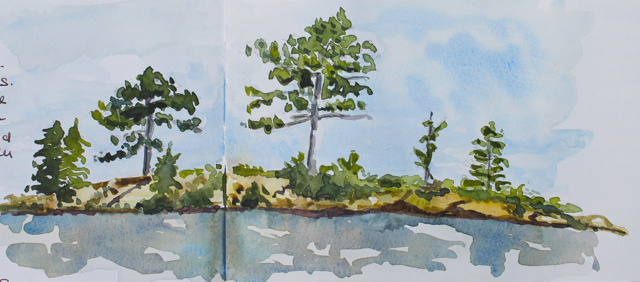 We were at the lake for the past week and I had a chance to do some sketching. Our cottage is on an island about three miles from the marina and this means that wherever we want to go, we need to travel by boat. My favourite boat is my kayak which I have had for over 25 years. The kayak allows me to travel alone and in silence and soak in all the details of the lake. There are lots of remote bays and inlets and I haven't explored them all yet. I can't sketch from the kayak–sometimes I clamber on shore with my paints and sometimes I take a photo–it just depends what works.
On Sunday we went in to Bancroft for the afternoon (boat to the marina and then an hour's drive). Here there is a great independent café, Mixin' Mommas, right beside the art gallery. I sat on the patio under the umbrella, drank a good latte and sketched the church across the parking lot. Really, a Sunday afternoon in August doesn't get much better than this. Four people stopped to look at my sketch and make friendly comments! And, speaking of comments…thank you all for the feedback on the blog and via email. It's a curious adventure, blog writing, and it's always good to connect with the outside world.
Before we headed back to the lake, I spent half and hour in the art gallery with an interesting juried show and stopped in at Ashlie's Books for a new novel, The Light Between Oceans, a story of life on an island, somehow seemed the perfect choice.