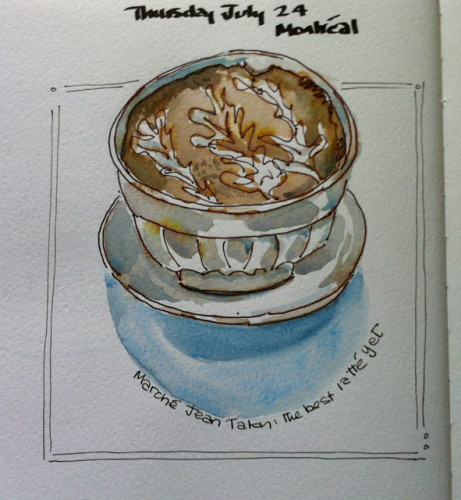 We spent the final couple of days of our trip staying at our son's apartment in Montreal. His place is on the third floor of a brownstone and like much of Montreal has a steep exterior staircase and a twisting interior one–always a challenge when you are carrying a bicycle or three bags of groceries. Parking is also a headache, but that's another story.  The important thing is we love Montreal and this location in the midst of the city, steps from the Jean Talon market, is wonderful. We enjoy walking  the aisles with all the local produce and they make the best lattes there as well. In this sketch I used a water soluble pen as suggested by Brenda Swenson in semester 2 of Sketchbook Skool. I really like the effect of the bleeding sepia ink and have been using it quite a lot lately.
I got that sepia Staedtler and a couple of sable travel brushes Avenue des Arts, an art store in Montreal I have been planning to visit for some time. It surpassed my expectations–they had everything I wanted and had trouble finding — and amazingly helpful staff. This is an independent art store, not part of a chain, and you could sense the knowledge and love of creativity in the people there.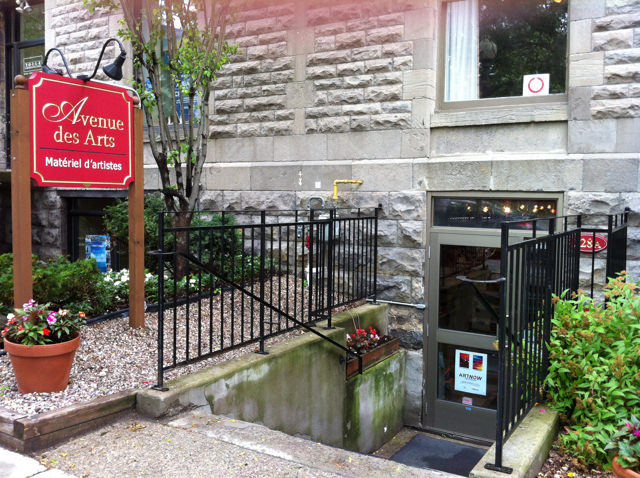 Across the street were some typical Montreal houses, each one more vibrant than its neighbour. I was sorry I didn't have the time to sketch them.