I've been sketching these grocery store tulips for the last couple of days. They are on my counter in my new Scott Bartrim vase. I rewatched the video of Brenda Swenson painting from the second session of Sketchbook Skool. I love the way she adds bright pure colour to her work. She has inspired me. I found that in each session of Sketchbook Skool there was one teacher who really spoke to me. For session two it was Brenda. If you would like to know more, here is a short video about the role of art in her life. 
I was in Hamilton last week and attended a talk on sketching at the Hamilton Club. I passed that building thousands of times when I lived there and I always wondered about it. What a treat to finally see inside.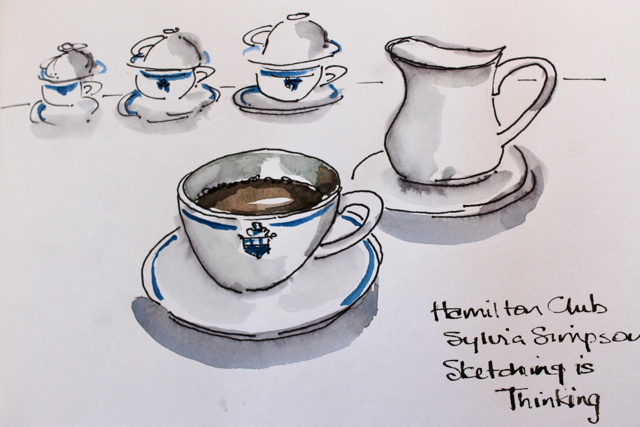 On Thursday I went to the One of a Kind show in Toronto. I've said here before that I try to buy only second hand or handmade clothes. The OOAK is a fabulous place to find the latter. I was smitten by the screen printed infinity scarves by Little Minnow from Austin Texas and the great clothes by Hoi Bo of Toronto. I also sat in the midst of things sketching the people around. The final photo is my page of notes from the sketching workshop in Hamilton, Sketching is Thinking, where we were asked to do a pencil sketch of the person sitting across from us.