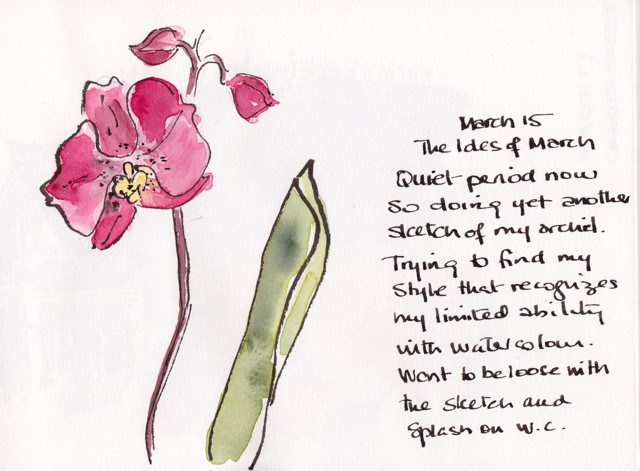 I've been using the Stillman and Birn Alpha book for daily sketches as well as for notes and clippings. I love the size and format of the pages and I like having one book for everything.  I'm trying to sketch everyday and do some experimenting. Tomorrow I'm going to try the tulips again, but mix my greens rather than use greens from the pans. I have a Sennelier Vert Olive which I tend to overuse. I love it going on, and then wonder what I was thinking when I see the finished sketch. All three of the sketches in this post were done with a Sailor pen and I like the looseness its upturned nib brings.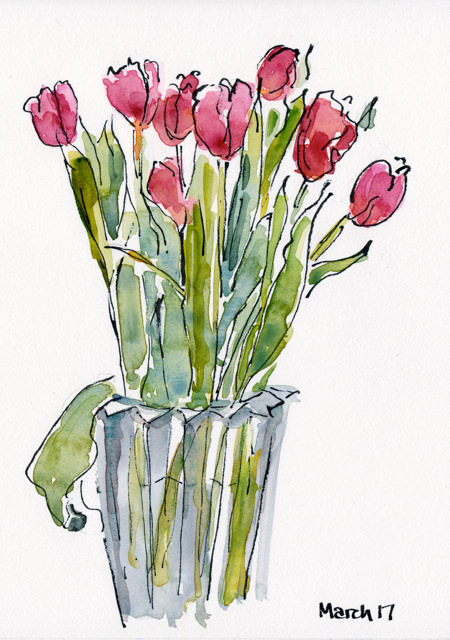 I sat in my car today for an hour for this one below, with the afternoon sun pouring in. Another favourite Belleville house. Today I was just trying to get the angles right, with all its dormers and verandahs. I want to go back and sketch it again, orienting it better on the page, including some foreground. I've been watching Paul Heaston's class on Craftsy. It's worth checking out. While I will never draw in as detailed a fashion as he does, I want to incorporate his well-explained concepts to help plan my sketches and the design of the page.
Meanwhile, I am finally back in the studio and will have some new things to show you before too long.