I spent four days in Amsterdam on my way home from Kenya. Amsterdam is one of my very favourite cities and I love to have the time to walk, to visit the museums and to sketch.  It's all there in such a small radius, long-surviving architecture from 1600's to the latest in art and design.
The Van Gogh Museum was particularly exciting for me this time as VG's sketchbooks were on display. It was such an eye-opener–you could see his process and his thinking by digitally paging through his sketchbooks. Below is the real thing in a view from one of the showcases.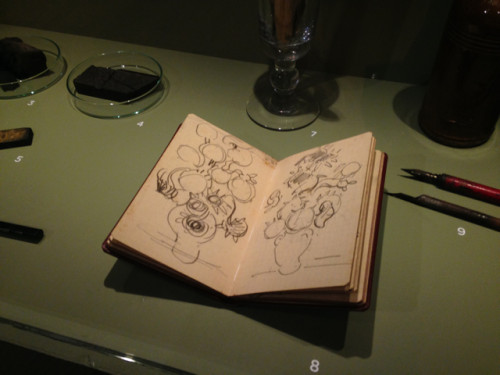 I did some sketching too. It was +8 degrees when I was there so it was warm enough to sit out for a little while and sketch. The exercise, for me, is getting to know the buildings, exploring the curls and corners. And my concentration and struggle for the whole time there, was how to follow the angles while keeping the drawing loose. And how to convey those windows, how to keep them from looking like black holes.
I was staying right on Dam Square, so this wonderful building was in my sights regularly. And below that a few pages from my sketchbook.