I have been inspired by Liz Steel's approach to sketching forever. But it was her charming video (a taste of what is to come in semester 2 of Sketchbook School) that propelled me to the back of the cupboard for my very small collection of tea cups. These two cups have connections in my family; the pink one was painted by my aunt when women of a certain age did such things for their hoped-for marriages. It was great to have a chance to use Potters Pink which has been neglected in my palette. And although I never drink from these cups–well, made an exception for the drawing–I really enjoyed sketching their shape and pattern. Here is a quote from Liz's blog which captures my feelings about sketching too: …my sketchbook journal is the celebration of the little things in life – the everyday becomes special and worthy to record and it is a great way to realize how much we have to be thankful for – even in hard times.

Speaking of SBS, I watched the videos of week 2 last night and have already tried one self-portrait. This week's assignment is various approaches to self-portraits, daily! Koosje Koene is so charming and encouraging, I almost think I can do it. I'll be posting my attempts later this week, maybe.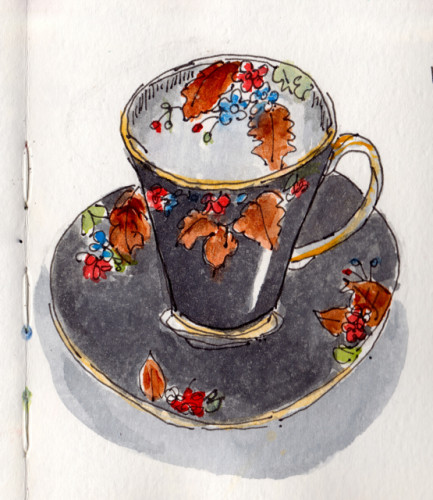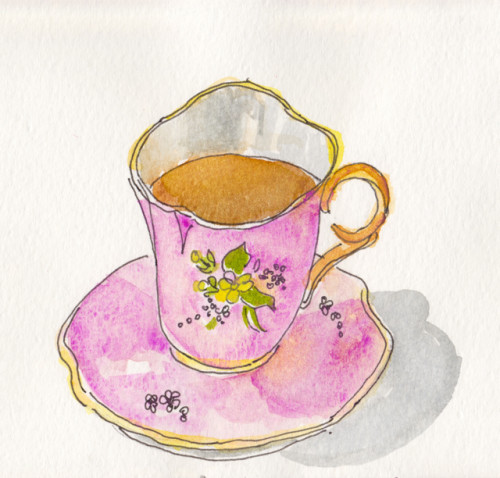 Here is another cottage sketch, not trees this time but fruit. The plate is vintage Hotel Quinte (now sadly a parking lot) and the fruit, you may recognize. I'm just playing with wet-on-wet and line or no-line, just having fun.