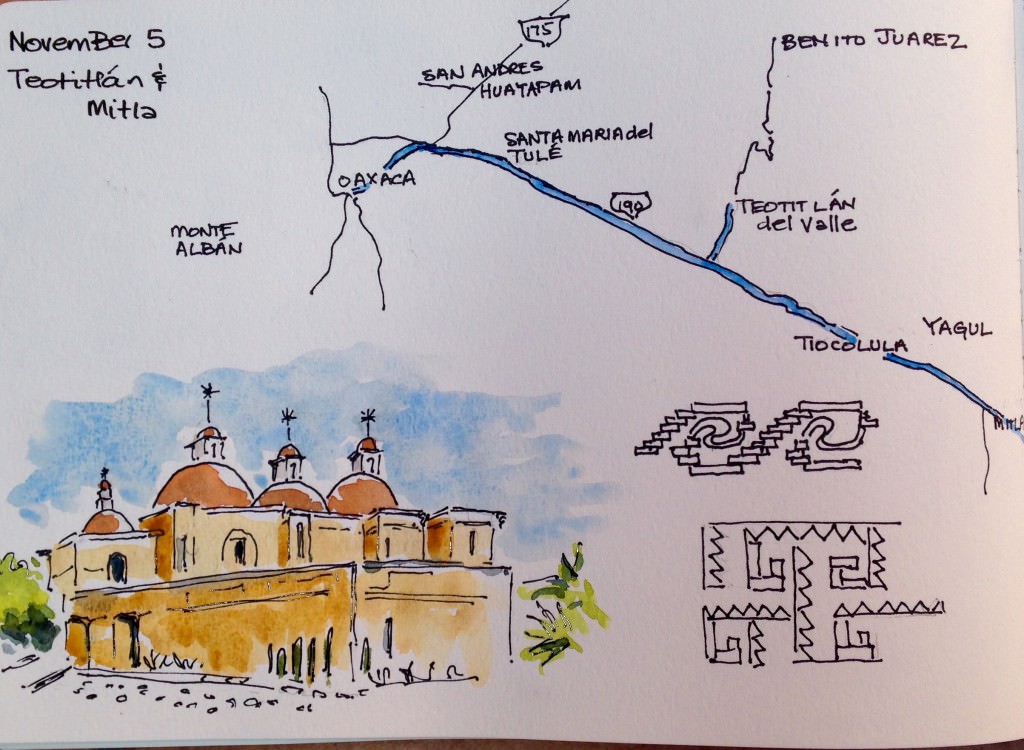 We are now at the end of our Oaxaca holiday and in the airport in Mexico City for a 9 hour wait. This is a perfect opportunity to do a blog post and maybe some sketching. I have so many photos and sketches on my ipad, but I'll just do a bit now.
Pablo Gonzales Marsch is a highly respected guide in Oaxaca as was his father before him. Last Wednesday Pablo took us to two villages in the Tlacolula Valley outside Oaxaca. The first was Teotitlan del Valle, the weaving village. Every family there seems to weave; carpets hang outside each household, reds, blues and golds in intricate geometrics, echoing the designs of the sacred buildings at Mitla and Monte Alban. We visited the studio of Jacobo Mendoza Ruiz and his wife–an airy place with four or five large looms, all with work in progress, a showroom and a dyeing room. We had the most informative session on natural dyeing with cochineal, indigo and a local plant which gave a wonderful yellow colour.  And then we were able to see the prize winning work of Jacobo and his family.  The whole family is involved in producing woven pieces, but the children, late teens, will also go away to school, Jacobo tells us, marking a change in tradition. It will be their choice whether they follow the family tradition or strike out on their own. Palbo explained that this is the first generation to have this choice.
Here Maria Luisa is crushing the cochineal to make the beautiful red colours. Behind are the skeins of newly dyed wool. And below is Maria Luisa with one of her beautiful rugs and one of Jacobo's award winning rugs, woven with gold thread highlights.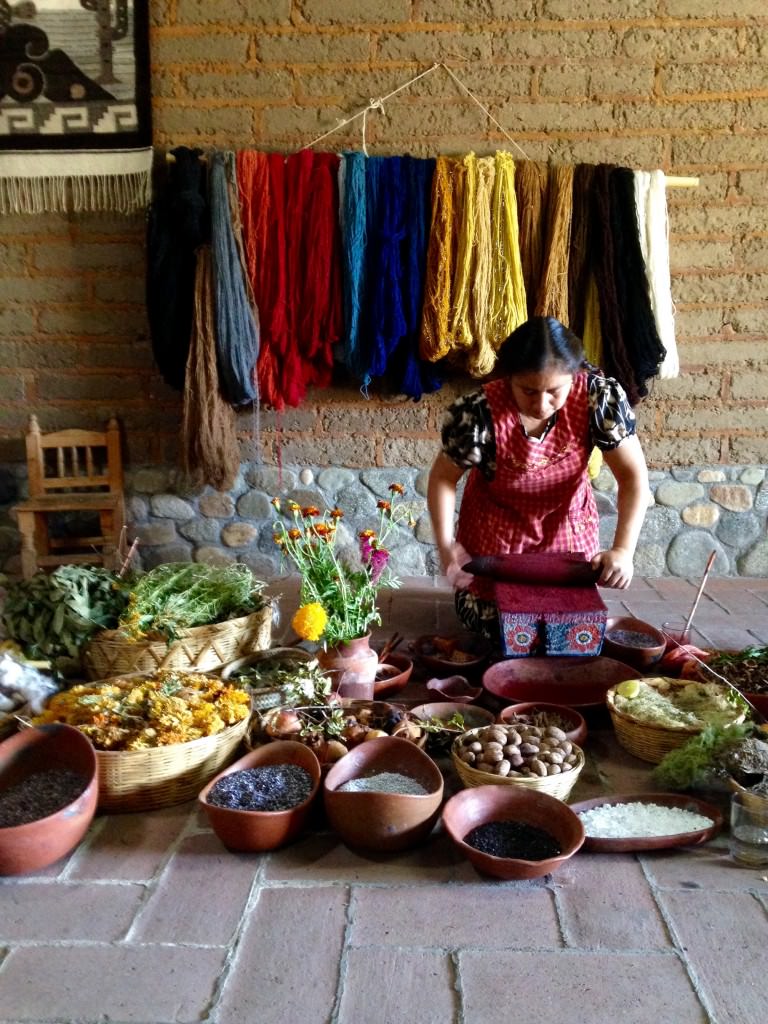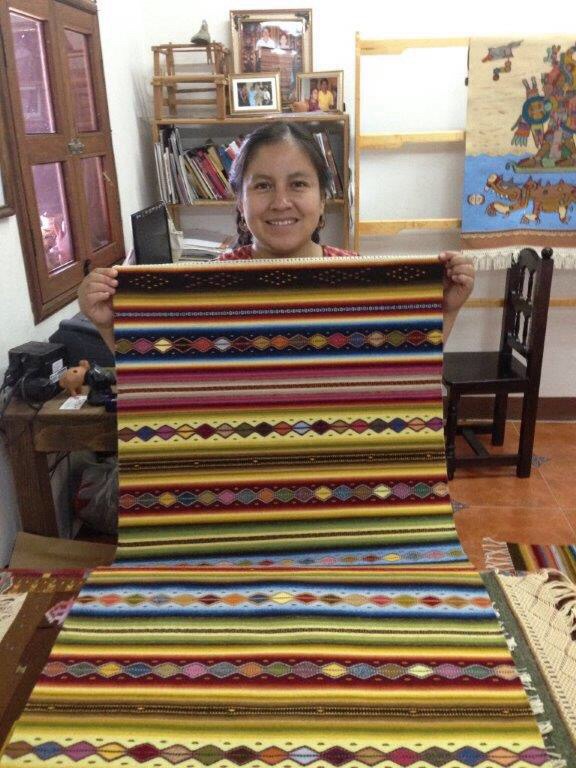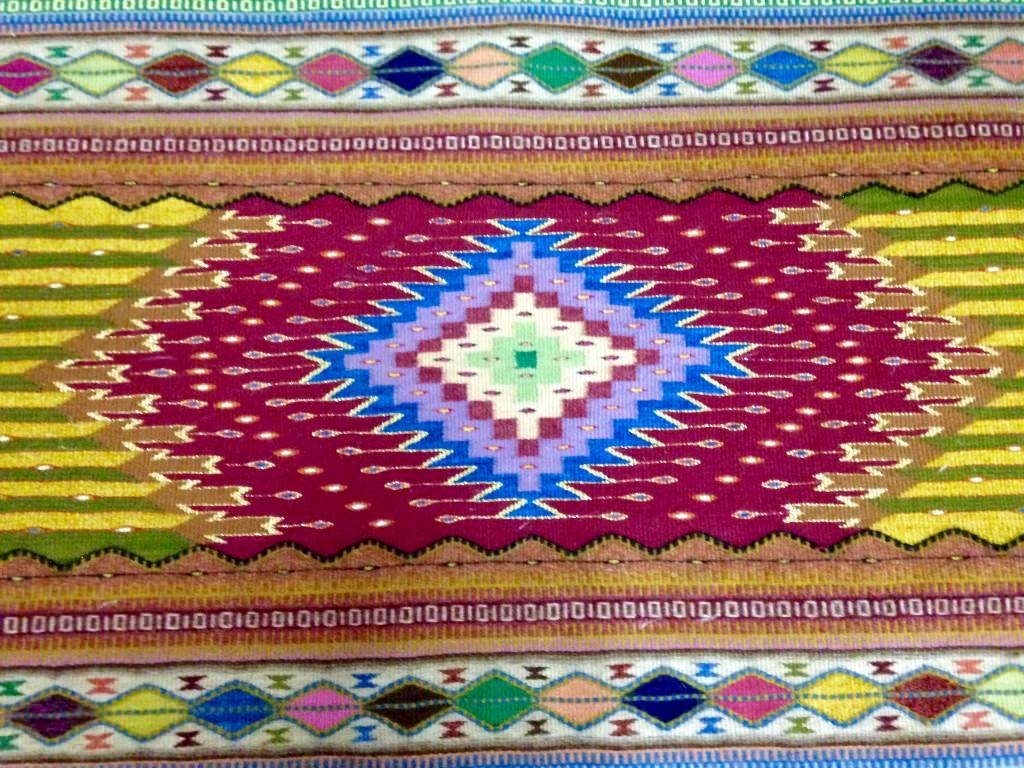 The second half of the day (after a delicious lunch at a road side restaurant) was spent at Mitla, the Zapotec site with walls of complex geometric designs constructed of finely cut stone pieces fitted together without mortar. The Zapotecs had no iron or bronze to cut the stone–so the wonderful precision of the designs as well as their longevity is mind-boggling. Oliver Sacks, in his Oaxaca Journal explains that the Zapotec equivalent for metal was the volcanic glass, obsidian. As I study the designs and copy them in my sketchbook, I start to think of a new hooked rug, or maybe even the border on my current rug. I've already decided that one of the birds at Monte Alban, the other archeological site outside Oaxaca, will be my signature of that rug. As we make our way back along the highway the 50 or so kilometers to Oaxaca, my mind is full. Colour, pattern and design dominate, but I am also haunted by thoughts of the Spanish invasion and the wilful destruction of such great beauty and skill. Before we leave, Pablo shows me the evidence that the Catholic church in Mitla was built using stones from the Zapotec sacred sites.