This is Thanksgiving weekend in Canada. We were very fortunate to have most of our family with us to close up the cottage for the winter, to make and consume the traditional foods including GG's turkey stuffing, and to enjoy the spectacular weather in southern Ontario. And GG was there at 95 to enjoy it all.
Carissa modelled some of the recent bags which have been on the blog. Here we are set to go for a walk and she is wearing her own green Part-time Backpack. Carissa tries out some of the new designs in her busy life and makes suggestions for changes. For this design we have added a clip to hold the straps together. But overall she reports that this bag converts easily from backpack to cross-body and is great to go from bicycle to board meeting. I have enough of this gorgeous leather for two more bags and the next will be slightly bigger than this one–a medium size.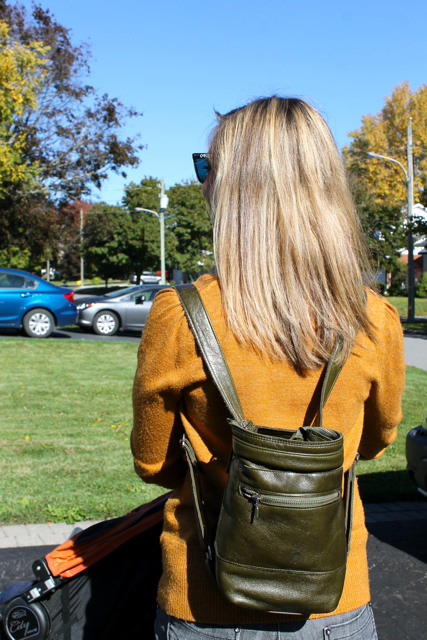 Here is the Full-time Backpack and a pair of the new mittens: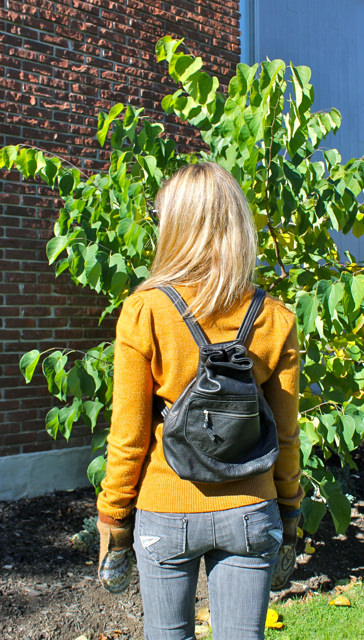 And finally,  another Part-time Backpack worn both as a backpack and a cross-body bag. And notice the pink mittens with sheep skin cuffs!