We have been travelling this week, to a favourite city and a new one. On the way we stopped in a book store for maps and I happened on How to Sketch People by Matt Pagett for such a sale price that I could not resist. And it is a perfect find to begin a trip where I hoped to push myself to sketch more. On the first pages he states his view of sketching: A sketch, as opposed to a drawing, its close cousin, can be characterized by a rapid yet considered execution, an instinctive response to a subject, a certain roughness, life caught on the fly.  And on the next page: …the moment I stop to look and think about what I see, it always comes with a mixture of surprise and relief. All the inner brain workings now relate to the outer world, and within that newly created space is some kind of harmony. It seemed a kind of permission and encouragement for my rough and wonky sketches. An invitation to harmony.
Se here they are. The first a 5 pm sketch in Montpelier VT after a long day of driving. The sun was still lovely on the Unitarian Church. Monteplier has so many wonderful buildings. I hope to catch more on the way home.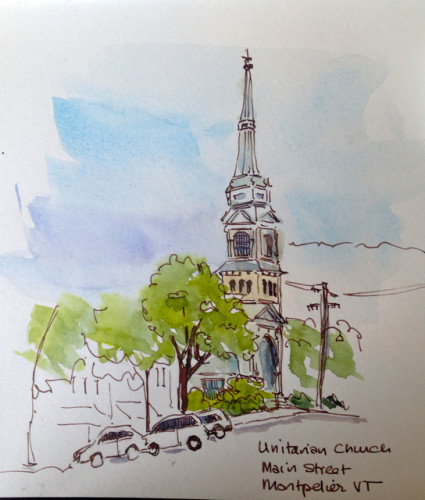 These photos are taken with my phone, so not the best. From Montpelier we made our way to Portland. I fell in love with the Custom House in the old port. Its stately towers can be seen from the water and from much of the city. The view from the front…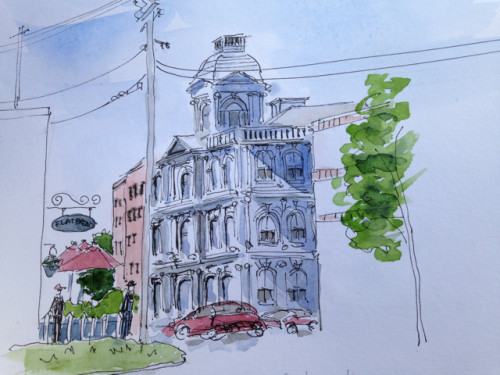 The back…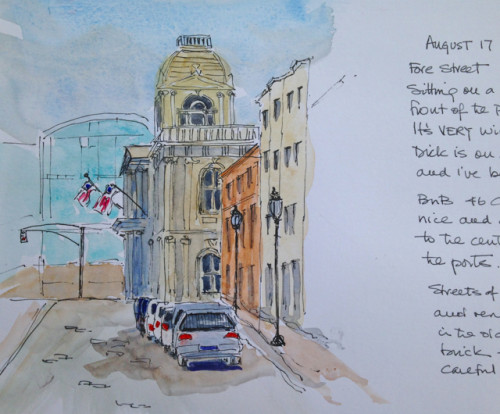 And a quick sketch from a bench on the street while practising capturing people walking by…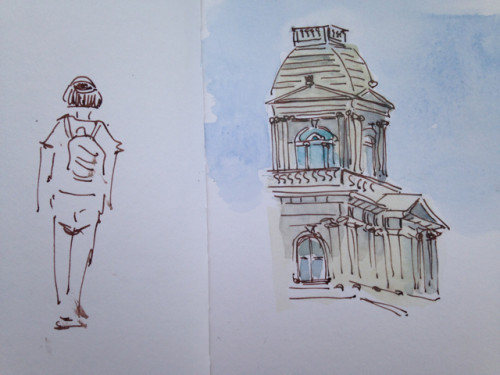 And a double page sketch of the wharf behind the fish store and a couple of sketches made while eating a lobster roll. The lobster disappeared too quickly to sketch!