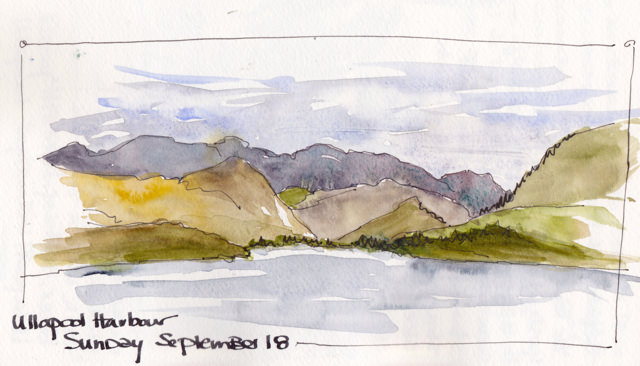 We are into our second week in Scotland and this is the first minute I've had to write on the blog. When I say minute, it's a bit of an exaggeration. It's just taken over 10 minutes for this sketch to download. So I won't be adding more today.
We have been in Orkney for the past few days. I've tried to sketch every minute I can, including in the high wind on the ferry. My goal is to finish the sketchbook this time with little drawings as well as some more finished sketches.
I loved Kirkwall and sketched both the sandstone buildings and the craggy countryside. The Scots are incredibly friendly and I've had lots of people stopping to talk and offer comments and critiques. The highlands provided stunning material for sketching and the bonus is that we have had sun! Everyone is telling us its the best weather of the summer.
And now the outer Hebrides. A visit to Harris with its textles and rugged landscape has long been my wish. I read Peter May's Lewis Trilogy in preparation for the trip, so I'm even more excited to see some of the romantic placenames come to life. I'll report on my visit one way or another–probably from Canada.